All Major Credit Cards Accepted
Queens Garage Door Opener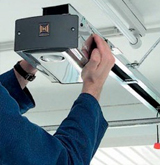 Tired of opening your garage door every time you need to put your car away or take it out? Call Queens Garage Doors and we'll have our professional team come to you and install an electronic garage door opener. If you are online shopping for the best price you should consider Queens Garage Doors because our prices are very affordable and we have been around for a long time. We work with prominent companies that provide garage door openers such as Genie, LiftMaster, Chamberlain and Craftsman; each with either ½ horse power or ¾ horsepower. Once you choose which garage door opener you want you can choose the drive that best suits your needs.
CHAIN DRIVE VS. BELT DRIVE, What's the difference?
Call us at 1 (800) 336-9270
If you are solely looking for the cheapest, most economical drive then the Chain Drive is your best option. The chain drive is noisy because it uses a chain and it is most suitable for garages that are detached from your home, and if you don't mind the noise. However, if you want to spend a few extra dollars and you would like a drive that is more quiet and discreet then the belt drive is most suitable for you. For only about $50 extra the belt drive performs similar to the chain drive, is just as reliable and the only difference is that the belt drive does not make noise. Belt drives are recommended to those whose garage is attached to the house and/or mind the noise.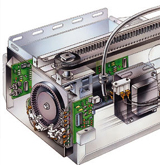 Queens Garage Doors do not only install garage door openers but we replace AND repair them!
Not sure if your opener needs repair? Would you rather try to see if it's working correctly before you call a technician? Here are two tests that'll help you figure out if your garage door opener needs repairing:
Test #1
• Hold the bottom of the door while it closes, if it does not reverse than that means your opener needs repair.
OR

Test #2
• Put a 2x4 on the ground flat and press the button on your remote to close the door. If it does not reverse right after it hits the wood then that means your opener needs repair.
Call us at 1 (800) 336-9270
Don't try and fix it yourself call Queens Garage Door. We install replace and repair garage openers!
We also provide: hardware and chain tightening, open and closing force balance and adjustment, free new door estimates, limit switches check, safety beam realignment and reverse system safety tests.